Blog
If You Can Bank Your Money, You Can Bank Your Health Information | Introducing Personal Health Record App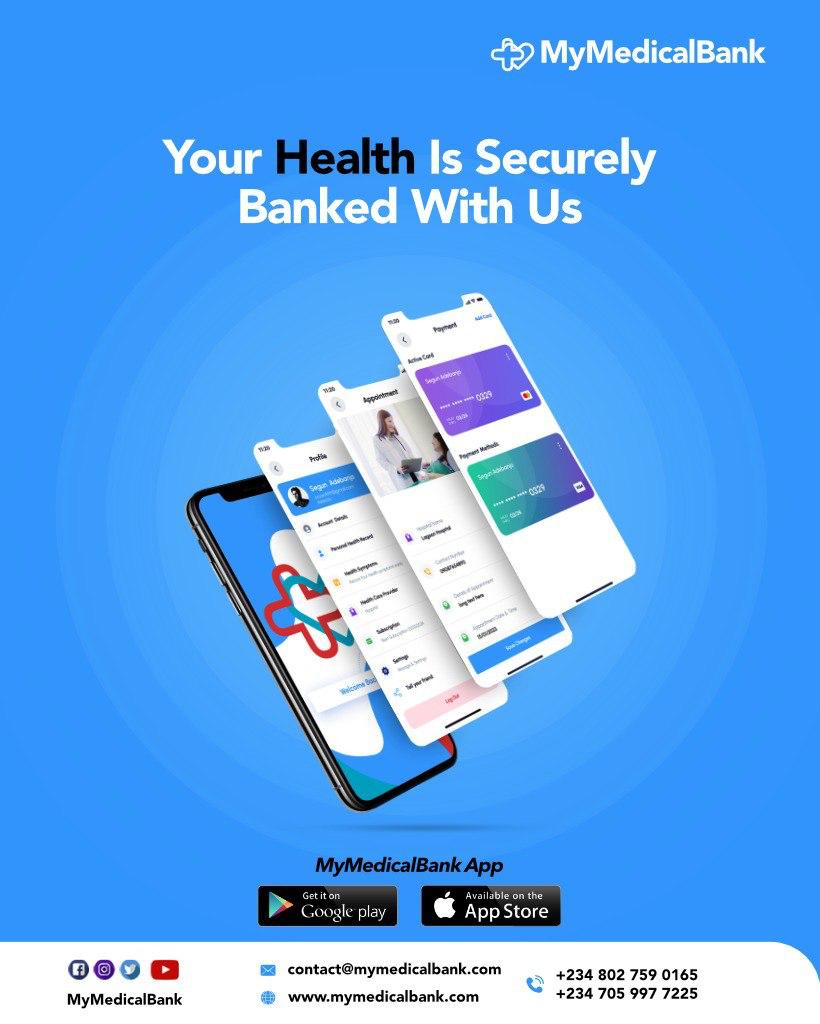 Table of Contents
It is most likely that you have experienced first hand the convenience, choice, speed and rest of mind that come from being able to access your bank account and perform your banking transactions on your phone anytime you want.
But have you given a thought that you can similarly enjoy profound benefits by being able to access your health records and engage with your doctor from your phone?
If you can bank your money safely on your phone, why do you think you cannot also bank your health information on your phone?
With nearly 100 million Nigerians now having access to smartphones and internet connectivity, the opportunity available to Nigerians to manage their personal health records and interact with healthcare providers at the click of a button has never been greater.
10 Benefits Of Telemedicine In Nigeria
Benefits of banking your health information with your phone | Personal Health Record App
Across the globe more healthcare organizations and technology companies are developing mobile apps and web applications called Personal Health Records (PHR) that allow individuals to access their records on their mobile phones. For instance in Nigeria, Africa's most populous MyMedicalBank an indigenous health technology company has developed MyMedicalBank PHR, a personal health records app users can download to their phone for free.
The benefits this type of innovation opportunity offers you and your family are enormous. Let's consider a few.
Storing your health information |Personal Health Record App

Did you know you can actually store your essential health records on your phone? Yes, whether it is appointment and discharge letters from the hospital or test results and images or whether it is vaccination records, birth certificate and medical history or it is observations of daily living (ODLs) and vitals such as blood pressure and temperature, you can store these essential records and access them on your phone.
Mymedicalbank PHR – Your Personal Health Records, The Power You Need.
Access Your Health Details Anytime, Anywhere, Any day | Personal Health Record App

When you need your health information in an emergency, submitting health records required for employment or travelling purposes such as vaccination records, birth certificate and health insurance details nothing gives you the rest of mind that comes with being able to retrieve the records promptly like a PHR app.
Generating valuable health intelligence | Personal Health Record App
You will be surprised at the wealth of information and data trends hidden within your records. The beauty of Personal Health Records (PHR) app is that it does not only allow you to store your health information but also to generate actionable health intelligence you can utilize to improve your health outcomes. For instance a PHR app can alert you to allergies, anomalies in your health readings, important reminders and personalized recommendations tailored to your individual health needs that you might not have been aware of.
5 Benefits Of Personal Health Records (PHR)?
Scheduling Appointments | Personal Health Record App

You can schedule and track your appointments with your healthcare providers and even set up appointment reminders eliminating unnecessary and prolonged time wasting waiting times. Incorporated into MyMedicalBank PHR for instance is a list of all 42,000 health facilities in Nigeria that users can select from when scheduling their appointment with their doctors.
Manage Medications and Reminders | Personal Health Record App

With a PHR you can keep a record of all your medications and set medication reminders. You will find equally find this feature highly beneficial if you are looking after a vulnerable family member.
Manage Specific Health Conditions |Personal Health Record App

If you have a health goal you want to achieve for example losing weight or keeping track of your fitness activities or if there is a health condition you need to monitor or manage such as high blood pressure, diabetes or pregnancy care you will find a PHR app handy.
Sharing your health information with your doctor and other providers | Personal Health Record App

The convenience and mobility of a PHR app makes it easy to share your referral letter, prescriptions, care plan, test request forms, test results diagnostic images and health insurance details with your doctors, pharmacists, diagnostic centers, HMOs and other providers.
Ease of getting second medical opinion | Personal Health Record App

Imagine you have received a diagnosis or a treatment plan but feel like getting a second medical opinion, a PHR app allows you to share your health record with another doctor wherever they are in the world. Obtaining a second opinion can reinforce a correct diagnosis, help determine the best course of action and ultimately increasing your confidence in your diagnosis and treatment plan.
Mymedicalbank PHR – Your Personal Health Records, The Power You Need.
Enjoy virtual medical consultation | Personal Health Record App

PHR apps offer you the convenience of receiving consultations, diagnosis, referrals and follow up remotely from your doctor, nurse, pharmacist and other providers. The virtual medical consultation otherwise known as telemedicine can be delivered securely through video call, audio call or chat. For example why MyMedicalBank PHR and MyMedicalBank Telemedicine exist as separate apps, the company is currently working to integrate the two apps to become one in order to improve the user experience.
A means of involving other family members | Personal Health Record App

A PHR app allows you to share your health records with trusted family members or caregivers, enabling them to support you in managing your health. This is especially relevant for children, the elderly, or individuals with complex medical needs.
Are there other benefits of using a Personal Health Record (PHR) system to manage your health information that you would like to mention? Or do you have any question or comment about the article? Please feel free to leave your thoughts in the comment section below.
MyMedicalBank is Nigeria's #1 health digital platform for accessing personal health records, booking appointment for medical tests, home care, telemedicine and accessing health insurance and other healthcare services from hospitals, clinics, medical laboratories, HMOs, care organizations and other providers. For enquiries, visit www.mymedicalbank.com/contact, email contact@mymedicalbank.com or call +234 (0) 802 759 0165.