Blog
The Facilities, The Workers, The Funding: Key Nigerian Healthcare Insights | A Deep Dive Of Health Care Distribution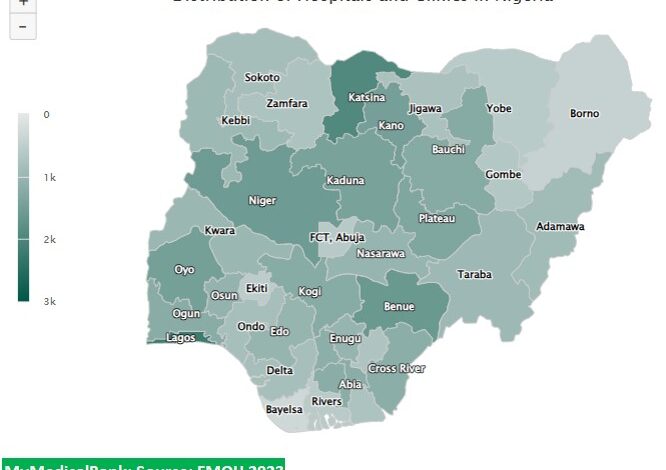 Healthcare delivery in Nigeria, Africa's most populous nation is driven by several interwoven factors. In this article insights on three of the key factors are discussed namely:
Health facilities
Health workers
Healthcare funding
1. Health Facilities | Nigerian Healthcare Insights
There are about 42,000 hospitals and clinics spread across the 36 states of Nigeria and Abuja the Federal Capital Territory collectively serving a population of 200 million. There are thousands of other health facilities including medical laboratories, diagnostic centers and pharmacies.
10 Top Best Teaching Hospitals In Nigeria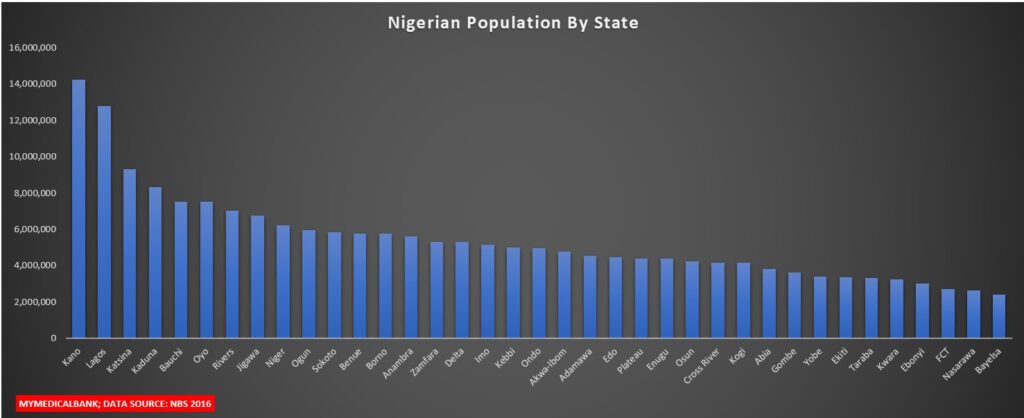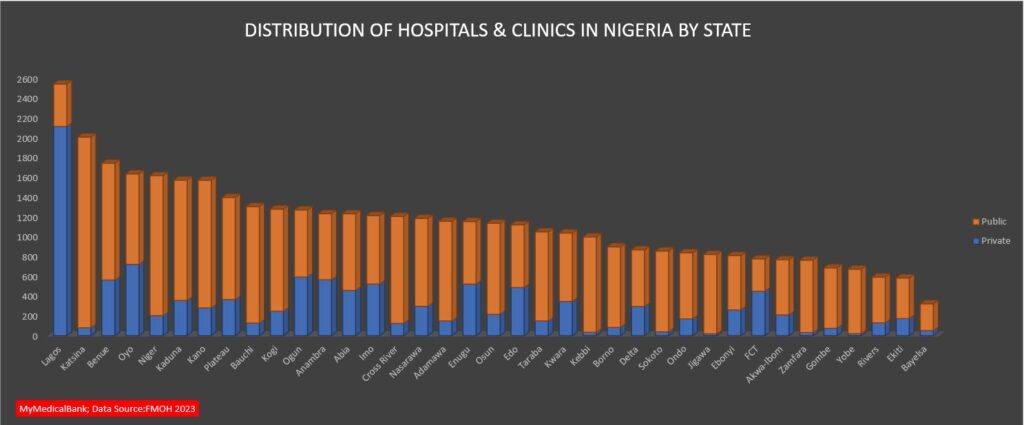 Top 7 Best Hospitals in Lagos, Nigeria: A Must Read
While in some cases there is a correlation between the population of a state and the number of health facilities in the state, there are several cases where the two factors do not correlate according to the health insight suggesting the existence of widespread health inequality.
For instance while Kano, Lagos, Katsina, Kaduna and Bauchi are the five most populous states, only two: Lagos and Katsina are among the five states with the highest number of hospitals and clinics. Borno and Zamfara which are two states with high population have relatively fewer number of health facilities.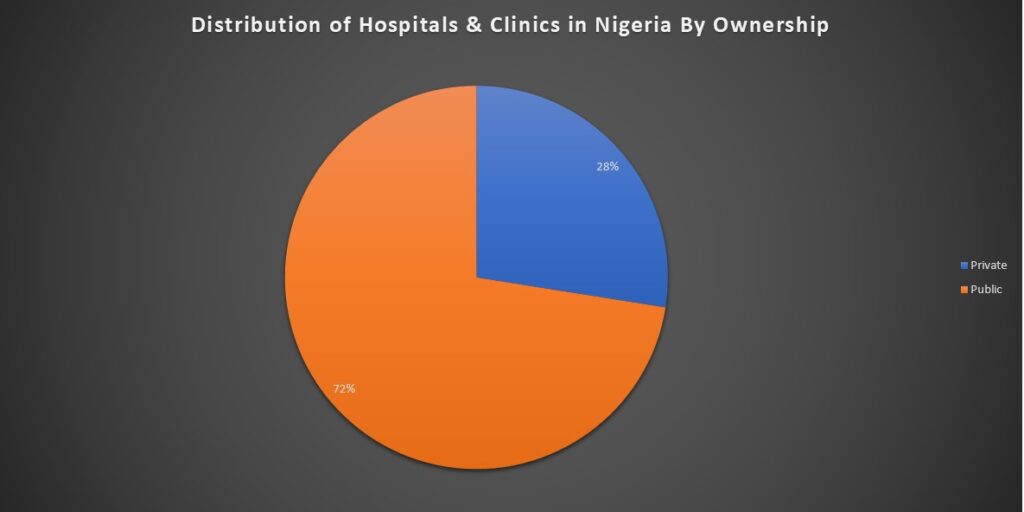 According to this Nigerian Healthcare Insights with the exception of Lagos and Abuja FCT, all states have more public health facilities than private ones.
As shown in (Figure 4 : Nigerian Healthcare Insights – distribution of hospitals & clinic in Nigeria By Ownership.) above , nationally 72% of all hospitals and clinics are public owned with the remaining 28% being privately owned.
This is a sharp contrast to what obtains in Lagos where 83% are privately owned and 17% by the public. Similarly in Abuja FCT 58% are private and 42% are public.
The variation in distribution of ownership is much higher in the northern states where there are more public facilities than private ones compared to the southern hospitals (Figure 5 : Nigerian Healthcare Insights – Distribution of hospitals & Clinics In Nigeria By Region).

There are three levels of healthcare system in Nigeria: Primary, Secondary and Tertiary. Tertiary health care constitutes the highest level of care delivery. There are 157 tertiary hospitals and clinics in the country as of 2023 with 66% being public and 34% privately owned.
In this Nigerian Healthcare Insights it's obvious the southern states have a higher proportion of private tertiary facilities with 54% being located in this region.
However, this Nigerian Healthcare Insights show us the northern states have a higher proportion of public tertiary facilities with 53% in the country being located in the region. 55% of private tertiary hospitals are located in the south. (Figure 6: Nigerian Healthcare Insights – Distribution of Tertiary Hospitals in Nigeria By Region)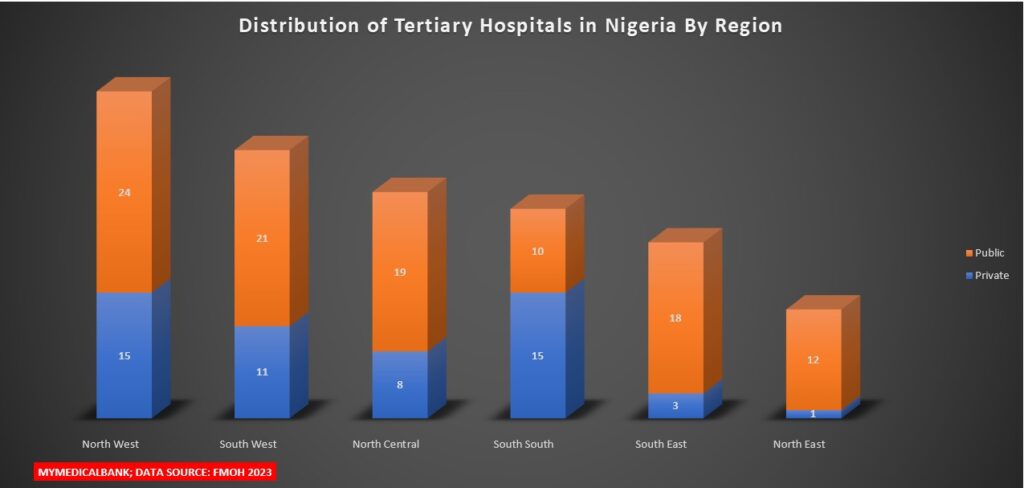 2. Health Workers | Nigerian Healthcare Insights
There are about 450,000 registered health workers in Nigeria. For a country with a large population (200 million), the health worker to patient ration is abysmally low. By definition, registered health workers are those who are required to be registered with a health regulatory body or hold a license to be able to practice in the country.
The health regulatory bodies statutorily charged with regulating the training and practice of health workers in Nigeria are Nursing and Midwifery Council of Nigeria (NMCN), Medical and Dental Council of Nigeria (MDCN), Pharmacists Council of Nigeria (PCN), Medical Rehabilitation Therapist Board (MRTB) and Medical Laboratory Scientist of Nigeria (MLSCN) . Others are Radiographers Registration Board of Nigeria (RRBN), Optometry and Dispensing, Optician Registration Board of Nigeria (ODORBN), Dental Therapist Registration Board of Nigeria (DTRBN) and Community Health Practitioner Registration Board of Nigeria (CHPRBN).
Nurses, midwives and community health extension workers form the bulk of the health workforce accounting for 84% of all registered healthcare professionals in the country.
The large number of this cohort of health workers can be leveraged by the Government and policy makers to drive healthcare delivery at primary care level particularly in underserved communities as a means to further reducing health inequality among the populace.

3. Healthcare Funding | Nigerian Healthcare Insights
The biggest source of healthcare funding in Nigeria is out-of-pocket payments in which individuals pay directly for medical services by themselves.
This mode of payment accounts for 70% of all healthcare financing in the country. According to data released by the National Bureau of Statistics, healthcare is the third highest expenditure Nigerians spend money on next to food and transportation amounting to N2.4tr or 6.1% of household expenditure in 2019.
The top 5 healthcare expenses Nigerians typically pay for out-of-pocket are diagnostic tests, medications, consultations, hospitalizations and medical supplies.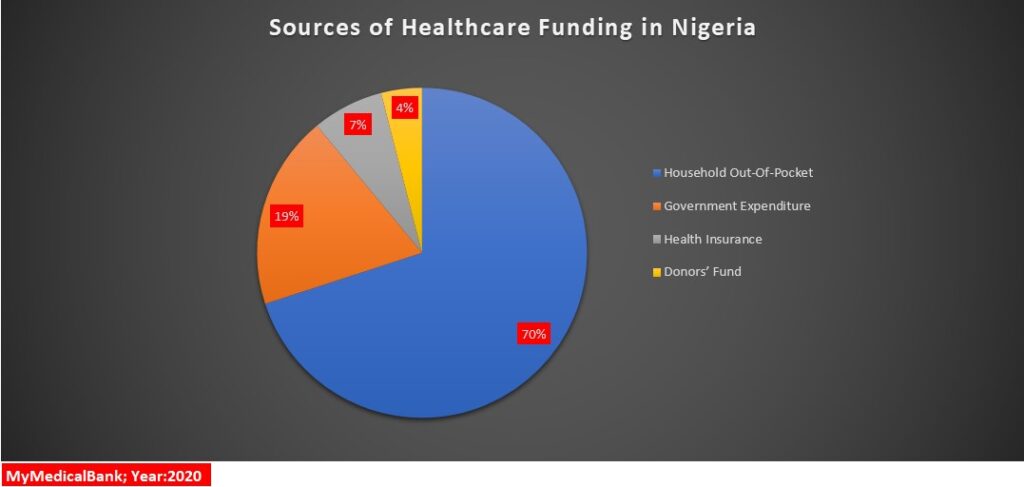 Uptake of health insurance remains very low being utilized to pay for only 7% of all healthcare expenses. Government at all levels (federal, state and local) collectively fund 19% of all healthcare expenditures with donors including Non-Governmental Organisations (NGOs), foreign governments and international agencies funding 4%. (Figure 8)
Data used in the article has been researched and sourced from various online platforms including Nigeria's Federal Ministry of Health (FMOH), National Bureau of Statistics (NBS) and the health regulatory bodies (NMCN, MDCN, MRTB, PCN and others). The raw data was interrogated, analyzed and reproduced in chart formats. We would like to hear from you if there are particular insights about this topic or other healthcare subjects you would like the MyMedicalBank team to analyze and report on. And if you do have any question or comment about the article too, please feel free to leave your thoughts in the comment section below.
MyMedicalBank is Nigeria's #1 health digital platform for accessing personal health records, booking appointment for medical tests, home care, telemedicine and accessing health insurance and other healthcare services from hospitals, clinics, medical laboratories, HMOs, care organizations and other providers. For enquiries, visit www.mymedicalbank.com/contact, email contact@mymedicalbank.com or call +234 (0) 802 759 0165.